Promoting the heritage of Missouri's Houndsmen
Hound Clubs
Hound Kennels
and
Hound Supplies
As this site promotes Missouri's rich heritage of Houndsmen & we aren't competing for rankings, I only want one page, so sites will be limited to those located in, or pertaining to Missouri.
---
Site Of the Moment:
Mo. Rabbit Dogs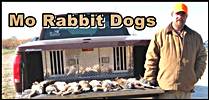 Missouri rabbit dogs of St. Louis, Mo. We have been hunting dogs for many years.
Rank
Site
In
Out
1
Loaded Beagles

0
27

Located just outside of Lincoln Missouri, Our goal here is to breed and train AKC Beagles with intelligence, excellent nose, great line control and easy handling but above all hunt hard and finish first.
2
Young Gun Kennels

0
23

We own a small but Productive Kennel in missouri, with bloodlines out of Branko,HEU,Hurry up, Haunted hill shaker and Lake Ogemaw Casey. We have a few really nice dogs for sale right now! We also have a PKC/UKC Club, Check it out!
3
Cutt-Runnin Beagles

0
17

Birth Place of true rabbit huntin' hounds! Our line derives from Branko/Armando (including IFC's) and Bredemeier/Patch (including HOF's) crossed foundations, w/ some Buzz Bomb infusion via Junction Hill/Choptalk lines. CHRISTMAS PUPPIES AVAILABLE!
4
May's Beagles

0
17

Located in Salem, Mo. Our bloodlines are mainly Northway, Turbo, Branko, Superior Patch, and Pine Mt. Starting Pen coming soon!
5
Staley's Little Red Kennel

0
17

With over 40 years of experience in training and raising beagles we offer medium speed line control hunting beagles.
---
Owl Creek Hounds
---
Rank
Site
In
Out
6
Denham's Beagles

0
17

Located in Mexico, Missouri, and this site is dedicated for our hounds and the sport of rabbit hunting.
7
Glaser Hollow Beagles

0
15

Missouri born, champion bred, run to catch gun dogs and trial hounds, akc registered.

8
Cane Cutter Kennels

0
14

Country raised beagles bred to compete and produce rabbits for the hunters dinner table.
9
S & P Beagles

0
12

SE Missouri Beaglers. Our ultimate goal is to breed quality AKC rabbit dogs. We plan on competing in ARHA Little Pack trials as well as PKC hunts. ****PUPS NOW AVAILABLE****
10
Owl Creek Kennel

0
11

Home of the Missouri Outlaw "Hunting" Beagles - Steve And Vickie Serini - Our Line Derives Mainly From The Dingus Macrae, Yellow Creek and Indian Hill Major Bloodlines.
---
Track Em' Down Hunt
---
Rank
Site
In
Out
11
Mo. Rabbit Dogs

0
10

Missouri rabbit dogs of St. Louis, Mo. We have been hunting dogs for many years.
12
Weedpatch Kennels

0
10

Welcome to Weedpatch Kennels, working closely with Jenkins Creek Kennels. We like to keep our dogs 100% Gay. Our kennel is located in Sturgeon, Missouri.
13
Luyes Extreme Outdoors

0
10

We are a father/2 son kennel in Southeast Misouri. We raise beagles that will run rabbits, and not run trash.
14
TopNotch Kennels

0
10

"Where Rabbit Hounds Are Made"
located in Vichy, Missouri
15
Freeman Beagles

0
9

Southeast Missouri beaglers breeding hard-hitting rabbit dogs. We run several proven bloodlines including Patch, Turbo, and Pine Mt. Chester.
---
Cutt-Runnin puppies starting
---
Rank
Site
In
Out
16
Petty's Swamp Music Beagles

0
8

Rabbit Hounds/Trial dogs. Starting,Training and Conditioning. Neelyville, Missouri.
17
Mountain Creek Beagles

0
8

It's just about me & my buddy & our beagles, we are just two rednecks from Missouri, who enjoy hunting our dogs.
18
Clayton's Beagles

0
7

Located in southern Missouri. Starting Conditioning and Whelping available. Breed for hard hunting strait up the center tight on the check Med speed beagles...mostly IN-LINE Black Jack Bloodlines.
19
Gasconade River Mountain Curs

0
6

Orel and Holden Sands
Rolla, Missouri
20
Missouri Gun Smoke Kennel

0
6

AKC/ARHA Hunting Beagles
---
Weedpatch pups in training
---
Rank
Site
In
Out
21
Top 100

0
6

Connects beaglers with beaglers, & beagle related items.
22
Track Em Down Kennels

0
6

We are a father/son team that love the great Missouri outdoors.
23
Brewer's Beagles

0
5

I currently have 4 older dogs and a few young prospects that are running prety nice, most of wich are based off Branko/Turbo dogs. I live just outside St.Louis County in Missouri.
24
Clark's Mountain Curs

0
5

FULTON, MISSOURI OMCBA & NKC Registered Mountain Curs.
25
C & D Cane Creek Kennels

0
5

We are a small kennel located in South East Missouri. We offer gundogs and pups for sale at times. We also start and condition dogs for people, you can contact me for prices and openings.
---
Cane Cutter Hounds
---
Rank
Site
In
Out
26
Coon Island Beagle Club

0
4

Located in Neelyville, Mo. We host ARHA LP & PKC licensed trails.
27
Hot Track Kennels

0
4

AKC, UKC registered beagles w/ Branko & Turbo lineage. Located in Northeast Missouri,
28
The American Beagler

0
3

Owned by the Ridenhour family of Belle Mo. A monthly publication devoted to the rabbit hunters, field trialers, and their best asset....THE BEAGLE
29
Big River Beagle Club

0
3

Beagle Club located in SE Missouri, that host ARHA LP & UKC field trails.
30
Knob Creek Beagles

0
3

Hello, my name is Justin Anders. I live in extreme southwest Missouri. I raise medium-fast AKC/ARHA gundogs. My bloodlines are based on Bramlett and Tib-bar breeding.
31
Talk-To-Me Beagles

0
2

Dingus MacRae, Indian Hills, Yellow Creek, Gay Baker & Happyrun bloodlines were used to produce our Gundogs.
32
Castlehill Mountain Curs

0
2

OMCBA REGISTERED SQUIRREL AND
COON DOGS AT THEIR BEST!!
33
Missouri Conservation Department

0
1

Missouri's hunting seasons, permits, & limits.
Your site here
Your site here
Your site here
Your site here
Your site here
Your site here
Your site here
Your site here
Your site here
Your site here
Your site here
Your site here
Your site here
Your site here
Your site here
Your site here
Your site here


Last Update: Sun, 11.23.14 21:09 UTC
Next Update: Sun, 11.23.14 21:39 UTC
Next Reset: Mon, 12.15.14 12:10 UTC
Sites: 33